Products
Vacuum Syrupers designed to accomodate a broad range of container sizes
Elmar, a leader in design and manufacturer of filler machines & technology, offers Vacuum Syrupers. Features include deep penetration of liquid to the product, elimination of an exhaust box and a specially designed valve that assures a positive seal. This positive seal prevents air leakage into containers under vacuum. The naturally self-lubricating valve can be easily removed for cleaning. Typical of all Elmar fillers, a No container/ No fill mechanism is provided that stops the flow of liquid when a container is not present. Another feature is a stainless steel liquid trap tank for use in the vacuum line to collect moisture overflow when vacuum is applied. The trap tank can be positioned in the place most convenient to the syruper. Automatic emptying controls can be supplied with the liquid trap. This control is functional during operation of the filler. Elmar Vacuum Syrupers are available in through – conveyor and tangential discharge configurations. Elmar Vacuum Syrupers provide accurate, rapid, and wast-free filling.
Leading the way with Parts & Service
Along with a parts department, Elmar offers exceptional service for each machine we custom design & build. Our technical service personnel are here to assist you from setup & installation to maintenance and service of your filler machine.
Learn More
Product Gallery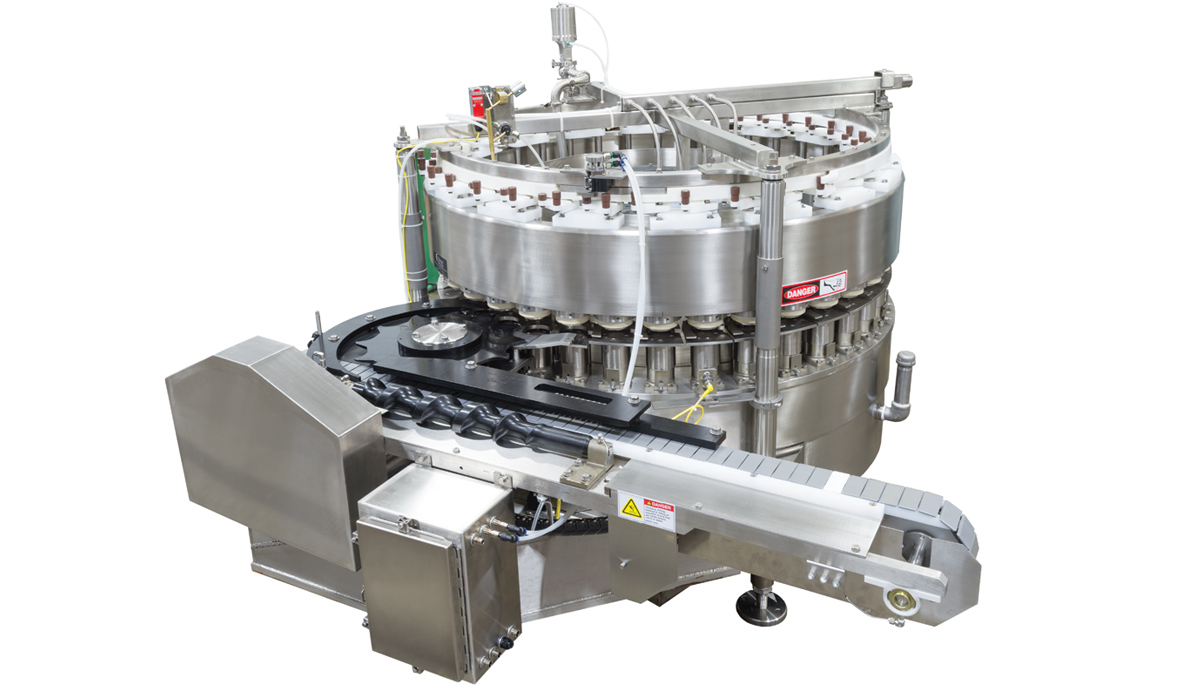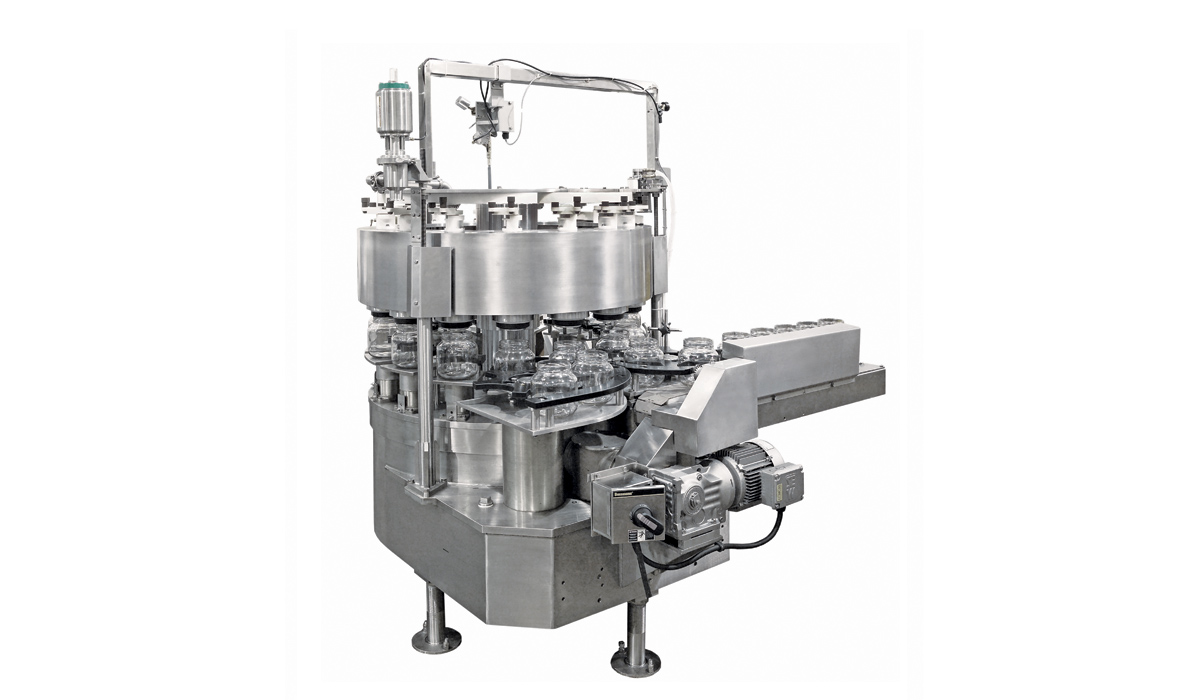 Vacuum Syrupers Models Available
Model
Capacity
Recommended Container Sizes
Water Requirement
Air Requirement**
Weight
Exported Crated Weight
Cubic Crated Measurement
VF-15-SD Std. Discharge (Thru Conv.)
200 CPM*
#10 (603 Dia.)
1/2 GPM
(1.9 L)
N/A
3700 lbs.
(1678 kg)
4700 lbs
(2132 kg)
237 Cu. Ft.
(6.7 Cu M)
VF-15-TD Std. Discharge (Thru Conv.)
250 CPM*
#10 (603 Dia.)
1/2 GPM
(1.9 L)
N/A
3800 lbs.
(1724 kg)
4800 lbs.
(2177 kg)
237 Cu. Ft.
(6.7 Cu M)
VF-20-SD Std. Discharge (Thru Conv.)
300 CPM*
209-404
1/2 GPM
(1.9 L)
N/A
3800 lbs.
(1724 kg)
4800 lbs.
(2177 kg)
237 Cu. Ft.
(6.7 Cu M)
VF-15-TD Std. Discharge (Thru Conv.)
350 CPM*
209-404
1/2 GPM
(1.9 L)
N/A
3900 lbs.
(1769 kg)
4800 lbs.
(2177 kg)
237 Cu. Ft.
(6.7 Cu M)
VF-36-TD Std. Discharge (Thru Conv.)
600 CPM*
209-404
1-1/2 GPM
(5.7 L)
60 PSI
(4.21 KG Per Sq. CM)
8000 lbs.
(3629 kg)
9000 lbs.
(4082 kg)
375 Cu. Ft.
(10.6 Cu M)
VF-54-TD Std. Discharge (Thru Conv.)
900 CPM*
209-404
1-1/2 GPM
(5.7 L)
60 PSI
(4.21 KG Per Sq. CM)
120000 lbs.
(5454 kg)
13000 lbs.
(5909 kg)
500 Cu. Ft.
(14.2 Cu M)
VF-15-SD Std. Discharge (Thru Conv.)
Capacity:
200 CPM*
Recommended Container Sizes:
#10 (603 Dia.)
Water Requirement:
1/2 GPM
(1.9 L)
Air Requirement**:
N/A
Weight:
3700 lbs.
(1678 kg)
Exported Crated Weight:
4700 lbs
(2132 kg)
Cubic Crated Measurement:
237 Cu. Ft.
(6.7 Cu M)
VF-15-TD Std. Discharge (Thru Conv.)
Capacity:
250 CPM*
Recommended Container Sizes:
#10 (603 Dia.)
Water Requirement:
1/2 GPM
(1.9 L)
Air Requirement**:
N/A
Weight:
3800 lbs.
(1724 kg)
Exported Crated Weight:
4800 lbs.
(2177 kg)
Cubic Crated Measurement:
237 Cu. Ft.
(6.7 Cu M)
VF-20-SD Std. Discharge (Thru Conv.)
Capacity:
300 CPM*
Recommended Container Sizes:
209-404
Water Requirement:
1/2 GPM
(1.9 L)
Air Requirement**:
N/A
Weight:
3800 lbs.
(1724 kg)
Exported Crated Weight:
4800 lbs.
(2177 kg)
Cubic Crated Measurement:
237 Cu. Ft.
(6.7 Cu M)
VF-15-TD Std. Discharge (Thru Conv.)
Capacity:
350 CPM*
Recommended Container Sizes:
209-404
Water Requirement:
1/2 GPM
(1.9 L)
Air Requirement**:
N/A
Weight:
3900 lbs.
(1769 kg)
Exported Crated Weight:
4800 lbs.
(2177 kg)
Cubic Crated Measurement:
237 Cu. Ft.
(6.7 Cu M)
VF-36-TD Std. Discharge (Thru Conv.)
Capacity:
600 CPM*
Recommended Container Sizes:
209-404
Water Requirement:
1-1/2 GPM
(5.7 L)
Air Requirement**:
60 PSI
(4.21 KG Per Sq. CM)
Weight:
8000 lbs.
(3629 kg)
Exported Crated Weight:
9000 lbs.
(4082 kg)
Cubic Crated Measurement:
375 Cu. Ft.
(10.6 Cu M)
VF-54-TD Std. Discharge (Thru Conv.)
Capacity:
900 CPM*
Recommended Container Sizes:
209-404
Water Requirement:
1-1/2 GPM
(5.7 L)
Air Requirement**:
60 PSI
(4.21 KG Per Sq. CM)
Weight:
120000 lbs.
(5454 kg)
Exported Crated Weight:
13000 lbs.
(5909 kg)
Cubic Crated Measurement:
500 Cu. Ft.
(14.2 Cu M)